Why Small Businesses Need to Set Up Visitor Tracking for Their Websites
In order for small businesses to be competitive with the "big box" stores, it is wise for them to take advantage of different analytics tools and resources to know how their website is performing. Why do they need to set up visitor tracking? Let's look.
According to Wikipedia, "Website visitor tracking (WVT) is the analysis of visitor behavior on a website." In order to measure that, small businesses should look into which applications going to give you the best results.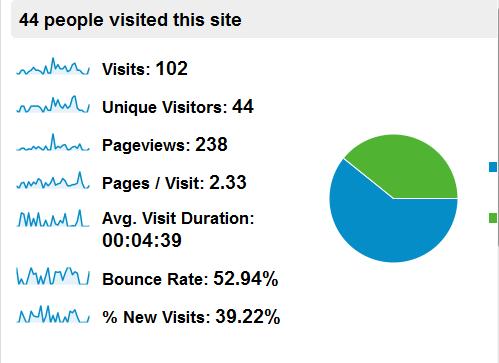 What is website visitor tracking?
Visitor tracking (or management) refers to how many people come to your website, what pages they are looking at, what page do they come in on, as well as leave your site on, and much more.
Look at Twelve Oaks Group, for example. By looking at any one of the website tracking tools, we can determine how many visitors checked out our site on any given day, what country they were from and even what city they hail from, how many minutes they stayed on our site, did they access our site from a mobile device, and so much more. Just imagine checking out our content overview and discovering that 69.23% of visitors in the month of June so far entered our website through our Home page.
Why is visitor tracking useful to small businesses?
Visitor tracking is useful to you because the more information you can gain about your visitors, the closer you can get to satisfying their needs and requirements. What are they looking for? Website visitor management can give you a closer look at what their searching for, how many times they are searching for it and what you can do to tell them that you have the solution to what they want. This makes your content more compelling, your mailing list management for campaigns more effective, your products more visible and likely to be purchased, and your return on investment be higher. Wow! How great can that be?
In summary to this section, some questions you should want answers for regarding visitor tracking are:
Is your advertising and marketing working?
If you're paying for ads on Facebook, Google, LinkedIn, Twitter or Pinterest, you need to know if those dollars are well spent: do visitors from these sources stay on your site? Are they finding what they need?
Is your site communicating effectively?
By looking at the pages visitors check out, can you determine if they're finding what they need? What do you need to tweak as far as your content? Do you need to explain further?
What is your bounce rate? – A high percentage of single-page visits or visits in which the person left your site from the entrance (landing) page needs to be addressed. You need to get those visitors to venture deeper into your site.
Is your home page (or your most popular entrance pages) capturing the attention of visitors?
What are some WVT tools that Twelve Oaks Group uses?
We're only going to mention 3 website visitor tracking tools right now — and these are used by Twelve Oaks Group now — yes, it's okay to have more than one tool to get the answers to what you need to know.
Invariably, the most well-known and most widely-used of the website tracking applications is Google Analytics. Offered by Google as a free service, Google Analytics (GA) provides a wide assortment of statistics that will tell you all your need to know about your website traffic. You can also upgrade to a premium version for a fee.
Clicky is a real time web analytics service. That means that once you login, you can see what's happening on your site — right now. Google Analytics has Real-Time also with the number of visitors on the site currently, the number of pageviews during each of the most recent 30 minutes, and the number of pageviews during each of the most recent 60 seconds.
Twelve Oaks uses Clicky as well for several options that GA does not have. Since Get Clicky only focuses on real time data as a default. There is access to comprehensive history; you just need to dig a little deeper on their site in order to pull out that information.
Lucky Orange records your visitor's every click, mouse movement, scroll, and keypress.
Lucky Orange is unique in that it provides you real time analytics like GA and Get Clicky. In addition, there are three more features that you may want to know about. I'm only going to give you 3 bullet points per feature, so for sure you'll want to go check everything out.
Live Chat Software
Chat box stays on the page and follows visitor as they browse your site for a seamless experience.
Can watch visitors screen while chatting with them
Add Customized Pre Chat Questions
Visitor Recordings & Live Sessions
Watch in real time or automatically records visitor browsing sessions
Watch every mouse movement, keypress, scroll, screen resize
Ability to chat with visitor while you watch them browse.
Heat Maps
Aggregate lots of click data to form beautiful heatmaps
Click heat maps
Mouse movement heat maps
Live Visitor Map
Watch a real time visitor map of all your website visitors
Animated with custom effects
Plot line between points for neat effect
So as a refresher, why do small businesses need to set up visitor tracking for their websites? It's all for the better to see your visitors, my friends.  You need to get a good overview of what they need, get feedback on your site's performance and services and be able to be flexible so you can adapt quickly.
Do you need help setting up one or more analytic sites? The Twelve Oaks Group web services and consulting team can help you. Why not give us a call at (731) 337-4330.
Got anything to say? Go ahead and leave a comment!
Search – You Can Find It!