Realizing 3D Potential for Your Business
When I hear the term 3D animation, the first thing that pops into my head is of course the Pixar movie Toy Story. Until digging a little deeper, it never occurred to me that the same technology that's used to create Buzz Lightyear, is easily applied to the business world as an effective means of marketing companies and products.
3D design can dramatize boring info and data

~ Chris Blaylock
 Chris Blaylock of Chris Blaylock 3D Designs sheds a little insight on how all this technology can positively impact your business. Let us start with the basics…first up, "3D design can dramatize boring info and data", says Blaylock.
He explains, and it kind of goes without saying, that 3D animation can make anything look cutting edge and state of the art, which in turn will effectively capture the attention of viewers and introduce a novelty that is almost impossible to duplicate with live-shot video. Blaylock's portfolio displays video intros, company logos, and products –all of which offer his clients an opportunity to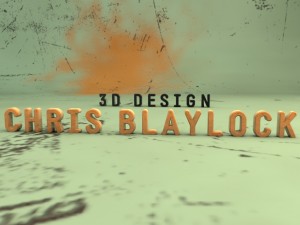 convey their message with increased professionalism. 3D animation doesn't just add to a company's image, in some cases it offers businesses practical alternatives to explaining product. It can give the viewer a better understanding of how something works without the setup or take down, and can sometimes offer clearer images than live-shot video.
Investing in quality 3D animation does not come cheap, but the payoff can be BIG. Blaylock says "an animator will charge around $50-$75 per second of animation. One second equals roughly one hour of work". Though, in some cases, the designer will quote a flat price after evaluating the overall scale of the project.
Do the math and you're looking at a $2,000 investment for 30 seconds of animation. More often than not the investment is well worth it; especially if your business depends on a clear and concise way of explaining product. In addition, the animation may be something you can use in a variety of settings, like your website's homepage, Youtube, Facebook, tradeshows, meetings, etc.
While the connections between 3D animation and marketing may seem pretty straight forward, they can easily be overlooked. It wasn't until I starting thinking about 3D design that I noticed exactly how much of it exists in the business world. So let this be a reminder that 3D animation is accessible to all of us, and making it work for your business could be well worth the investment.
Got anything to say? Go ahead and leave a comment!
Search – You Can Find It!