Internet Marketing Can Pave the Way to Success for Small Business
A Small Business needs to take advantage of every known resource out on the Internet today. That is why internet marketing can be just what they need to help pave the way to success.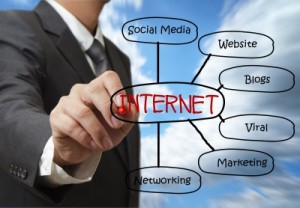 When we talk about internet marketing, it might surprise you to know that there are many types from which you can choose. Many of you may already be familiar with article marketing from a previous blog post that we did. But there's a whole big sea of methods you can use for successful web marketing. You can use one method or several to take full advantage of the various promotion options for your services or products.
According to Wikipedia, "Internet marketing ties together the creative and technical aspects of the Internet, including design, development, advertising and sales." Also known as web marketing, online marketing, webvertising or e-marketing, the broadness of types is extensive:
Display advertising

Search Engine Marketing (SEM)

Search Engine Optimization (SEO)

Social media marketing

Email marketing

Referral marketing

Affiliate marketing

Inbound marketing

Video marketing

Mobile marketing
That means there are many ways you can enhance visibility for your services and products. Twelve Oaks Group has already touched on some of these, so we'll be careful to not tread where we have been before. We're only going to touch on those that we feel a small business or local government agency might want to tackle first.
"By 2016, advertisers will spend $77 billion on interactive marketing — as much as they do on television today. Search marketing, display advertising, mobile marketing, email marketing, and social media will grow to 26% of all advertising spend as they are embedded in the marketing mix." (Forrester, August 24, 2011)
Display Advertising
You might have heard the term banners mentioned before and the importance of displaying banners next to your written content on your web pages, in your emails or even internet messaging (IM) applications. These banners come in all sorts of sizes and shapes and can utilize text, logos, images and, quickly becoming more popular, rich media that can have audio, video and more. Display advertising is just like your newspaper and magazine ads and your TV commercials — only in an online environment.
Search Engine Marketing (SEM)

SEM is what you do in the way of marketing that places your website higher in ranking on the major search engines like Google, Bing, Ask, Yahoo! and any other search engine that is out there on the Web. By getting higher placement in these engines, the likelihood of visitors coming to your site increases tenfold.
One of the most popular types of search engine marketing is Search Engine Optimization (SEO). Simply, SEO is trying to "figure out" how search engines work. What search terms or keywords do individuals type into the search bar? What are they looking for?
The major applications where you want to consider utilizing SEM are social media marketing, email marketing, referral marketing and content marketing.
Email Marketing
Email marketing is a very low cost way to promote your business. Not only does it allow you to target the group you want to focus on, but it can be used very effectively with other types of internet marketing to drive direct sales and build relationships, loyalty and trust. Email marketing allows you to either use cold lists (ones that you have not had any interaction with previously) or your own customers — previous, potential or current.
Okay, so are you still with me? I'm going to quickly mention 2 more types of marketing that a small business can focus on. Both of these are catching on like wildfire.
Video Marketing
You've heard of YouTube, haven't you? Making and using videos is not as expensive as one might think. Videos can be used both as a training tool to teach someone how to do something, as well as a tool to advertise. You can then upload your videos to YouTube where you have a prime opportunity to cash in on a brand new avenue of internet marketing. Why is video marketing useful? It's been shown time and again that people don't remember text content as well as seeing a visual.
Small businesses are just now beginning to realize the open field of opportunity in tying video marketing in with our last type of internet marketing — mobile marketing.
Mobile Marketing
That cell phone you have can be a powerful tool to use for advertising. Just think – it's been said that there are at least 5 out of every 6 homes that probably have a cell phone. Now think about this — it's also been said that mobile marketing can be 3-5 times more effective than online marketing. Those are mighty telling statistics, wouldn't you think?
There's no doubt about it. internet marketing can pave the way to success for small business. You can choose one type or combine multiple types, and Twelve Oaks Group has the web design and consulting services that can help you succeed. Why not contact us so we can sit down together and develop a customized internet marketing strategy for your business today!
Copyright (c) 123RF Stock Photos
Got anything to say? Go ahead and leave a comment!
Search – You Can Find It!