What and Why Is Article Marketing Important to Small Business?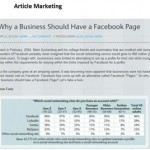 By now, I am sure you have heard of article marketing, right? Twelve Oaks Group saw something on the Internet the other day, so I thought I'd break down that article for you. Here is the nitty, gritty about what and why article marketing is important to Small Business.
What the heck IS article marketing?
Well, let's say you write several articles and upload them to the Internet by submitting them to different article directories, or perhaps you outsource the writing and submitting of them to a freelancer. Article marketing is a form of advertising for your small business and is very effective for driving customers to your website.
According to Phil Stone, Internet Marketing Success Coach, in his article, "What is Article Marketing," he indicates that there are actually three types of articles that can be used to drive that traffic:
• Articles for blog or web site posts
• Articles as press releases
• Articles sent to article submission sites
Combining these three tactics together provides small businesses with a very effective internet marketing strategy that can propel their business to increased traffic — and therefore, increased sales.
Why is Article Marketing Important to Small Business?
There are actually many benefits to article marketing; however, we'll break it down to the 3 top reasons as to why article marketing is important to small business. Let's take a look at what they are:
1. Visibility – Using the 3 different types of articles gives you a lot of visibility as more and more businesses read your articles. Think about it. Prior to purchasing products and services from a small business, potential customers want information on that particular product or service, right? This sets you up to being a subject matter expert. They don't want to deal with someone that is not knowledgeable about what they wish to buy.
2. Brand Recognition – Building brand recognition takes elbow grease and time. Nothing worthwhile will ever happen overnight but you can do it. By using articles, more and more customers are going to begin to know your brand. The key to your success will depend on YOU making your content and expertise available to them where they can enjoy it in their own time.
3. Profitability – There are two sides to this. One side of the coin is that you won't have any large expenses to worry about. As a matter of fact, you can publish articles (yes, including press releases) at many sites for free. Using this form of internet marketing can also attract additional revenue to your bottom line because it will increase your opportunities for sales. Article marketing can be used by any size business — large or small — Business to Consumer (B2C), Business to Business (B2B) or Business to Government (B2G) – nationwide or global. Article marketing can prove to be an effective source of additional income to your business for years to come and be a source of potential customers for life.
Twelve Oaks Group has lots of web services and internet marketing ideas that you can use for your small business. We'd love for you to give us a call at (731) 337-4330.
Got anything to say? Go ahead and leave a comment!
Search – You Can Find It!